While the DAM DogRanch has always been a state of mind more than a place, it's physical location has always been wherever I happen to be living at the time. the Dog Ranch name originally came about when my then wife and I had 6 dogs...hence...dog ranch....
The DogRanch has been in south austin for the last couple of years in a tiny studio apartment. Lots has happened during that time frame and it has served its purpose. Time to move on.
Luna and I are moving to the thriving metropolis of Dale, Texas, about 20 miles southeast of Austin (about 10 miles north of Lockhart, home of our favorite BBQ joint,
Smitty's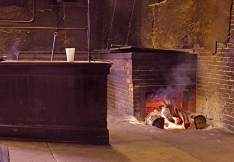 Thanks with help from my Mom, we bought a little over an acre with a trailer to live in and 2 out buildings to turn into a studio and a metal shop respectively. The DogRanch is a real ranch now. Luna wants some goats to herd so that may be in the future.
More soon, but hopefully the art output will significantly increase in the near future...now that we have some space to expand our minds....
so in honor of being out in nature...Nick Cave and The Bad Seeds do Nature Boy: